The creation of the jewellery care and service centre is the accumulation of over 58 years of experience in fine craftsmanship skills. Achieving an industry first in the local jewellery scene, customers will undoubtedly have an immersive experience at being able to view the live process of their jewellery items being serviced by our experienced craftsmen. The whole range of services offered include:
Refurbishment: Polishing and plating
Resizing and repair
Transfer loose diamonds to exchange into another casing
Complimentary cleaning and inspection
Same Day Collection
Have a limited transit stopover time and yet wish to send your jewellery for servicing?
The jewellery care and service centre will undoubtedly fulfill the discerning needs of tourists or customers looking for a one-stop shop to fulfill all their jewellery servicing needs, be it for refurbishment or size alteration, and yet be able to collect them on the same day.
Laser Soldering Machine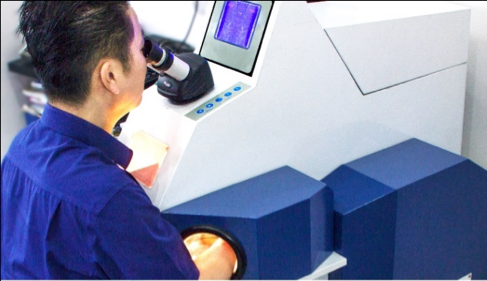 One of the key specialized equipment is the laser soldering machine which is a computer-controlled precision system used for jewellery soldering to achieve high quality finish and will not damage the diamonds or gemstones.
A finely focused laser beam is used during the soldering process, resulting in a minimal heat affecting the gold, diamonds or gemstones. The use of precision pinpoint heat source allows our craftsman to solder jewellery designs where the gold is in close proximity of heat sensitive diamonds or gemstones.

During traditional fire torch soldering, the heat is applied to a relatively large area resulting in heat transfer. If the craftsman is not careful, heat sensitive stones may be damaged by the flames.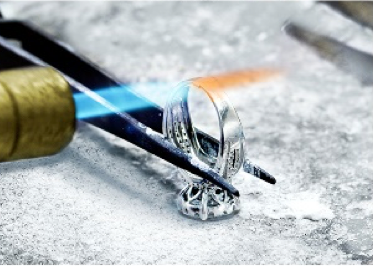 For laser soldering, it can solder on gold or platinum jewellery surface and is especially used on hollow or round concave surfaces which cannot be done for existing soldering technique. A soldering microscope viewer chamber window enables craftsman to closely monitor the entire soldering process.